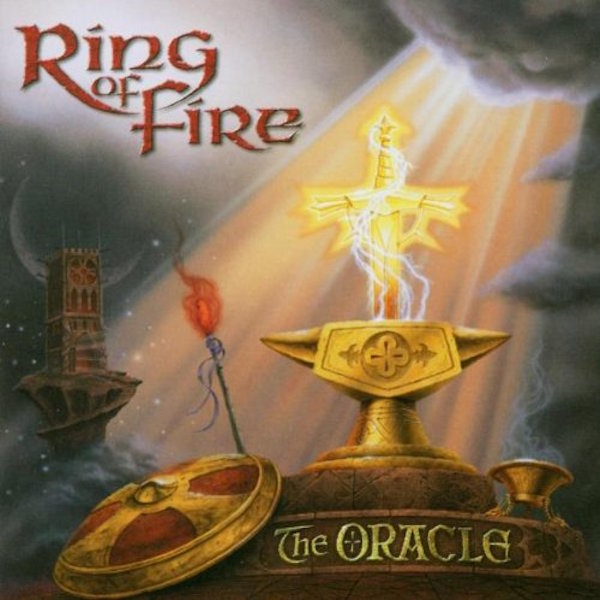 The Oracle
Released October 30, 2001
Order Album
Description
The Oracle
In November 2000, Mark Boals finally left Yngwie Malmsteen's band and Vitalij Kuprij put on hold his band Artension, they talked about the possibility of forming a real new super-band. Virgil Donati immediately agreed to be part of it, while Tony MacAlpine had to pass on the offer due to his commitments to several other projects. A replacement was soon found in the talented guitarist George Bellas (Mogg/Way) and the experienced bassist Barry Dunaway (Pat Travers, Malmsteen) joined to complete the lineup. In January 2001 Barry suddenly left the band, immediately substituted by Philip Bynoe (Steve Vai Band).
Rehearsals finally started in Chicago during February 2001 at George Bellas' studio, while recording happened one month later at Steve Vai's Mothership Studio in LA. The mix was later given in the hands of Erik Norlander and Neil Citron for a result that can easily be considered as one of the best productions / performances in neoclassical heavy metal music ever!
"This album's got Bellas and Kuprij in it, so you know it's going to be a neo-classical metal shredfest."
"It's got a lot of prog influences that are especially apparent at the beginning, and the solos will probably cause your face to spontaneously combust."
"The combined might of the sheer technical talent is stunning. I knew George could rip but man, this is sweet! That boy can shred!"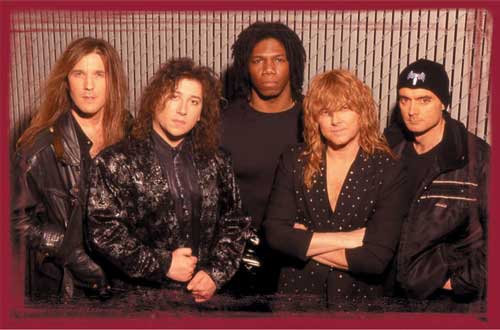 Ring of Fire - Los Angeles, California 2001
"...keyboardist Vitalij Kuprij and drummer Virgil Donati staying on from the solo albums while George Bellas replaced Tony Macalpine and former Steve Vai bassist Philip Bynoe joining in on bass."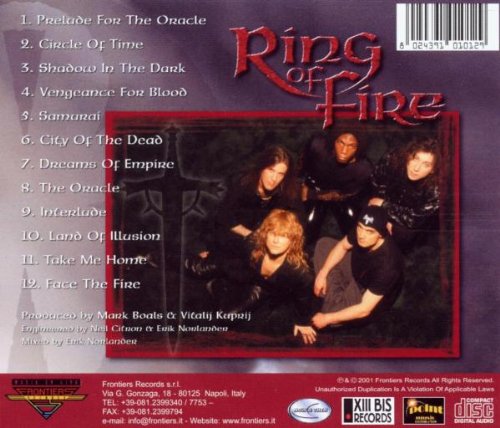 "The Oracle remains an unabashedly neoclassical power-metal record."
Released Worldwide
Frontiers Records
Songs
Prelude
Circle Of Time
Shadow In The Dark
Vengeance For Blood
Samurai
City Of The Dead
Dreams Of Empire
The Oracle
Interlude
Land Of Illusion
Take Me Home
Face The Fire
Running Time 61:22
Credits
Mark Boals - Vocals
George Bellas - Guitars
Vitalij Kuprij- Keyboards
Virgil Donati - Drums
Phil Bynoe - Bass
Composed by Mark Boals & Vitalij Kuprij
Produced by Ring Of Fire
Mixed at The Mothership
Mastered at Think Tank Studio
Artwork by Dave Stephens
Recorded at The Mothership, Bellas Music Studio, The Green Room & Think Tank Studio
© 2001 Ring of Fire
℗ Ring of Fire, BMI.
Thanks
Paragraph Title
Thanks to Vitalij Kuprij, Mark Boals, Virgil Donati, Philip Bynoe, and the crew at Steve Vai's Mothership Studio. A warm and genuine thank you to my family, friends, and fans around the world for all their support and understanding of my devotion.