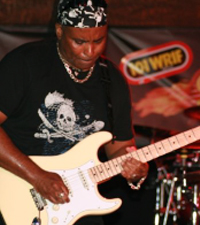 Leon Rahmaan
Location: USA
Leon Rahmaan is a guitarist, composer, music teacher at the L.R. Axe Academy, and a fully decorated former officer of the Detroit police force. Leon has a solid understanding of classical harmony, melody, and form. He is currently focused on increasing his skills as a composer even further by continuing to expand his knowledge of orchestration, counterpoint, form, and modern composition principles.
Leon has studied composition and guitar with George via Skype based Live Online Video Lessons and also the George Bellas Instructional 12-CD ROM Series. For more information please visit: www.LRAxeAcademy.com
Download Leon's album on iTunes: Dark Energy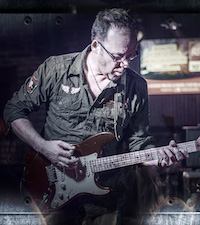 Antoine Prost
Location: France
Antoine Prost is a guitarist and composer residing in France. Antoine has completed all twelve of the George Bellas Instructional Series CD-ROM lessons and has also spent many years studying and transcribing note for note the entire George Bellas discography. In the audio clip below, Antoine utilizes odd meters and melodic harmony guitars which he uses to segue into a dual guitar solo over an ethereal soundscape.
For more information please visit: www.AntoineProst.com/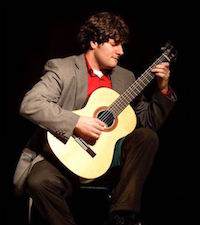 Jay Shepherd
Location: USA
Jay Shepherd is a guitarist, composer, and recording artist. In addition to being a virtuoso electric guitarist. Jay performs guitar, bass, keyboards, and vocals on all of his recorded works in a true representation of a solo artist. His music is a unique amalgam of classical, rock, metal, jazz, and world music styles. Jay is a well accomplished classical guitarist earning both a B.M. and M.M. degree in classical guitar performance from Arkansas State University.
Jay recently released his debut solo album entitled "Gemini". For more information please visit: www.JayShepherdGuitar.com
Download Jay's album on iTunes: Gemini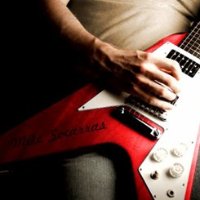 Mike Socarras
Location: USA
Mike Socarras is a guitarist, composer and music teacher operating out of Florida in the United States. Mike has a keen interest in classical principles along with an inherit knack for odd time signatures. Currently Mike is working on his debut album.
Mike has studied composition with George via the Skype based Live Online Video Lessons.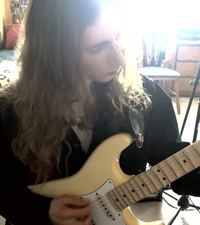 Daniel Horbaczewski
Location: USA
Daniel Horbaczewski is a guitarist, composer, and an electrical engineer that resides in the United States. As of this writing, Daniel is studying strict classical voice leading principles alongside the pursuit of developing his guitar skills.
Daniel has studied composition and guitar with George via Skype based Live Online Video Lessons and also the George Bellas Instructional 12-CD ROM Series.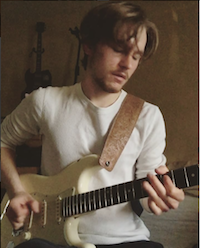 Jonny DiSilvestro
Location: USA
A blues and rock guitarist who lives each day with his fingers glued to his guitar and is influenced by AC/DC, SRV, John Mayer and more. Jonny started out heavily inspired by AC/DC and learned the rhythms and solos for every song of their entire catalog. As Jonny continued to develop his skills he began exploring the roots of his favorite players and discovered a myriad of legendary blues guitarists that continue to be influentual in his playing.
Jonny plays a Fender Strat, '63 Gretcsh Firebird, and a Gibson SG through a 1978 Marshall JMP amp. Here he is live stage right: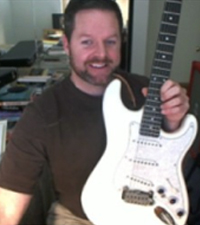 Peter Otto
Location: USA
Peter Otto is a composer, guitarist and bass player residing in California. Peter has a firm grasp of classical harmony, counterpoint and form. He has studied composition techniques ranging from strict 16th and 18th century counterpoint to classical and romantic harmony, advanced form, along with modern principles that include complex rhythm and harmony.
As a dedicated and disciplined individual, Peter continues to write and record in an effort to further hone his craft. The sample audio clip is a 3-part imitative counterpoint piece in a 16th century style.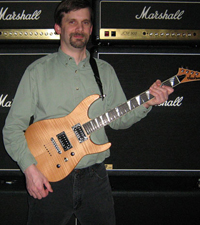 Kevin Battaile
Location: USA
Dr. Kevin Battaile is a Structural Biologist. He is active in open mic nights, has played bass for a jazz quartet, and bass with college jazz ensembles. His current goals include: technical improvement, improvisation, working on composition, getting some songs recorded and playing live.
Kevin uses a KB Custom Strat, Jackson Soloist, Ibanez Artist and an arsenal of amps, pedals, and other goodies. Not only has he built his guitar from scratch, but has also built his own pedals.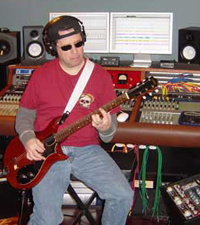 Marc Martin
Location: USA
Attorney, Guitarist, Songwriter and Producer, Marc Martin has played in bands around Chicago since the 80's. Most recently he has done recording projects with Suicide Shift and Hy Flyer where he played guitar as well as bass, synth and backing vocals.
Mark's main guitars and amps include: American Stratocaster with a maple neck; Fender Custom Shop Rory Gallagher Stratocaster; American Telecaster with a rosewood neck; Marshall 1974 handwired; Engl Screamer; and a Bogner Shiva. Mark continues to actively write and record in his high-end studio.
Steve Shannon
Location: USA
Steve Shannon first picked up a guitar at the age of 10. Steve has written and recorded his debut album entitled "Mind's Eye". The main guitars in his arsenal include: a Sonic Blue Stratocaster, Vintage White Stratocaster, 60's Cream Stratocaster, Graffiti Yellow 48th St. Custom Stratocaster and a Cherry Red Strat. The amps Steve prefers are a Line 6 Flextone II Plus into Marshall Cabinets.
Most recently Steve has contributed to several CDs released on ShredGuy Records and is currently active with writing, recording and performing with his band "Mind's Eye".
"Composing music allows me to disconnect and at the same time it invokes my soul to explore." - Steve Shannon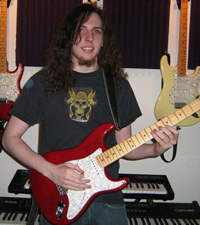 Jeremy Fink
Location: USA
Guitarist, Composer and Student Jeremy Fink was an intelligent, dedicated, and very creative individual who was studying composition, orchestration and guitar alongside computer science until his untimely passing.
One of his goals was to complete his debut album utilizing the material and techniqes he was studying. His main guitars were: an Ibanez RG1570, Fender Stratocaster and a vintage Gibson Explorer all plugged into a MESA Triple XXX amp. Jeremy had extreme potential and will be greatly missed.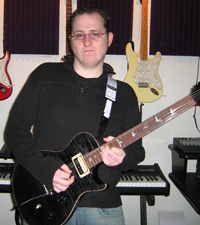 Nick Sinski
Location: USA
Nick Sinski is a guitarist, composer and music instructor residing in the USA. He plays a PRS Singlecut, Fender Stratocaster and an Ibanez 7-String guitar. The amps he prefers are Marshall and Roland. Nick also uses a Radial Tonebones, Boss DD6, MXR Phase 90 pedals.
Nick keeps active with teaching guitar, performing weekly in church groups, and has played in various Bands throughout the years, he is currently involved in writing and playing with his vocal band.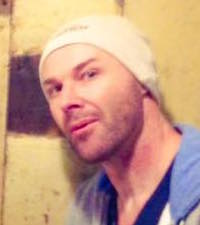 Andrew Orsmond
Location: Africa
Andrew Orsmond is a guitarist and composer residing in Africa. He plays a variety of guitars that include Ibanez and others running through Marshall and Kemper amps. Andrew uses Logic Pro to compose and record his music.
Andrew keeps active with an ongoing pursuit of pushing his abilities by learning and exploring new composition techniques along with expanding his skills on the guitar.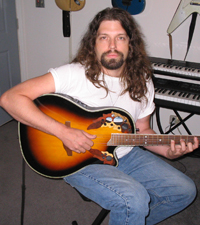 Mike Hordowich
Location: USA
Michael Hordowich is a talented composer and guitarist. He has a solid background in live performance playing drums, bass and guitar. In the past, he was the guitarist for the successful Led Zeppelin tribute band "Presence". As a composer and recording artist he has recently completed his debut album (title pending) and preparing for release.
Short term future plans are to finish his current solo project and promote it. Long term, he would like to explore the engineering side of the studio, as he enjoys the production component of music and would enjoy producing music for other musicians as well.
I realized that guitar was my life when I was 16. I took lessons from George Bellas... learning from George was invaluable in shaping me as a young guitar player. His insight and encouragement made me want to explore my potential."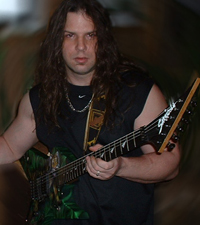 Mike Senczysen
Location: USA
Mike Senczysen is a guitarist, composer, producer and music instructor with a penchant for progressive instrumental music that utilizes odd-meters and various other modern composing devices. He has completed his debut album entitled "The Eighth Hour" and is a showcase for his ability not only as a guitarist, but as a unique composer.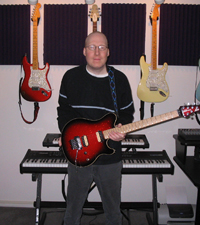 Greg Sleeth
Location: USA
Greg Sleeth is a hard rock guitarist leaning in the progressive and neoclassical styles. He has performed live as an acoustic performer with Mace Music's and Chicago's very own T.D. Clarke. He is currently working on his 1st Solo album of guitar oriented instrumental music. Greg's song's feature progressive odd-meter elements as well as commercial "Dokkenish" style heavy guitar rhythms.
Tony Smotherman
Location: USA
Tony Smotherman is a guitarist, composer and performer residng in the USA. He keeps busy perfroming with his band, while also writing and recording. Tony has recently completed a new album featuring notable guest performers.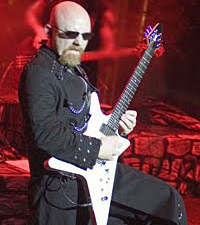 Tom Hess
Location: USA
Tom Hess is a Guitarist, Composer, Recording Artist, and in demand music teacher that has released several solo albums under the name HESS, and has recorded and performed worldwide with the Magic Circle record label band "Holy Hell". Tom posses a proficient command of the guitar and deep understanding of music which are both demonstrated on each of his albums.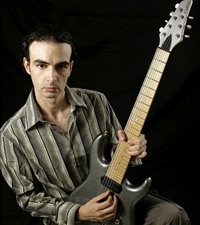 Marco Ferrigno
Location: Mexico
Marco Ferrigno is a guitarist and composer from Mexico. He has written and recorded several albums over the years which were released on the Lion Music Record Label. Marco has completed the entire 12 CD-ROM "George Bellas Instructional Series", has studied "Turn Of The Millenium" inside out, as well as traveled to the USA for private lessons. Marco has also graduated from Guitar Institute of Technology in California, USA and continues to be active as a solo artist.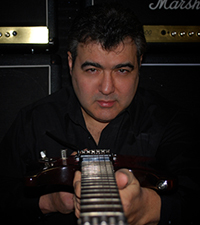 Bill Lubera
Location: USA
Bill Lubera is a composer, multi-instrumentalist and recording artist. He is a Veteran of the Chicago music scene having played guitar for Jinx and later in RipChord. He has been playing guitar since the age of 5 and has developed a wide variety of styles with influences from Rush, Satriani, Stevie Ray, and a whole lot more.
Bill owns and operates Lubera Studios, a multi-media production facility utilizing a Mac based system running: Logic Pro and Digidesign hardware. You can find more of Bill's music at www.BillLubera.com.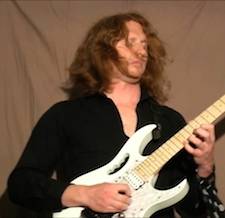 George Engelbrecht
Location: Africa
George Engelbrecht is a guitarist, composer and music teacher residing in South Africa. He is currently recording his debut album while also regularly performing live with his two bands "Via Dolorosa" and "Strident". You can find more info about George's music and current activities at the George Shred King website.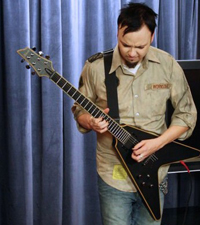 DJ Nelson
Location: USA
DJ Nelson is a guitarist, composer, recording artist and music teacher that has taken private lessons for many years, he has alos also graduated De Paul University with a degree in music. He is a proficient composer and competant guitarist. DJ performed several live shows with George in the late 90's playing songs from Turn of the Millennium. DJ has played in numerous bands, including "BagLady" who have released there debut album entitled "Bad Popsicle".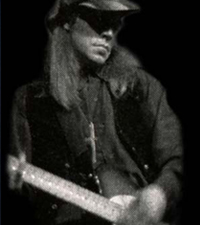 Jeff Harris
Location: USA
Jeff Harris has taken private lesson for numerous years. He has good song writing skills and passionate guitar playing. Jeff's guitar style is Blues/Rock based, reminiscent at times of Duane Allman. He plays in the band "Traveling Sky", together with have written and recorded a collection songs possessing strong hooks and a very approachable style. The vocals, drums and bass in this group are outstanding as well. These guys have that secret ingredient to make some real magic. Jeff plays Strats, Tele's and Les Pauls.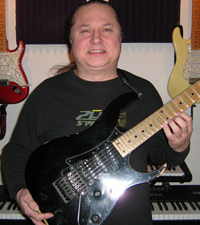 Orest Dziatyk
Location: USA
Orest Dziatyk is a guitarist, harpsichordist, violinist, composer, recording artist and music teacher residing in the USA. He plays an Ibanez RG550, Carvin 7 String, and vintage Gibson Flying-V through Marshall, Peavey Triple XXX and Vox amps. Orest has performed with amny bands, including Uli JOn Roth, Transgresser, Energy Vampires, Firestorm, Imperial Rage and Septer, and has also opened for Blue Oyster Cult and Trouble. Orest is actively working on completing his next album.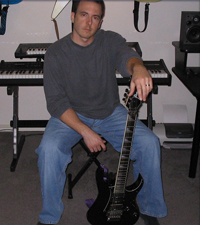 Mark Brooks
Location: USA
Mark Brooks is a Guitarist, Composer and Private Instructor. He has done work for radio talk show host "Man Cow". Mark has a good understanding of music theory, a diverse knowledge of scales, and can play and write in various styles quite comfortably.
He has a natural tendency for unique and fresh ideas in his compositional approach, utilizing a lot of exotic scales and odd-meters within his work. Mark is also quite adapt at improvising over advanced altered chord sonorities. Mark is currently active writing, recording and performing live with his band "Regretting Wednesday".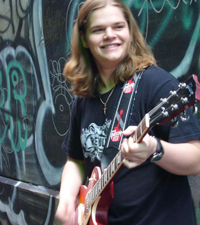 Ivan Chopik
Location: USA
Ivan Chopik, a native of Florida, is a Berklee School of Music graduate and is determined to learn as much as possible about music and be the best he can be as a guitar player and composer. Ivan continues to study, practice, compose and hone his craft while also teaching privately and playing in a band. Ivan also operates the website www.GuitarMessenger.com.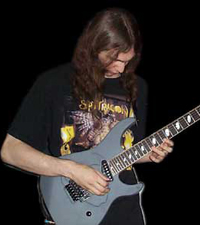 Mike Derosa
Location: USA
Mike Derosa's influences range from Randy Rhoads, Buckethead, Shawn Lane, Mattias Eklundh, Yngwie, Bach and so many others. He has studied privately with notable artists in the music industry. Mike uses a Caparison, Applehorn as his main guitar through through Mesa Boogie Dual Rectifiers. He spends a significant time studying music theory, harmony and other related elements. He also plans on recording a guitar instrumental album in the future while keeping active by writing and performing live with his band.
Tomek Spirala
Location: USA
Tomek Spirala is a guitarist, composer and studio engineer that has toured the world with his band and also written, recorded and released several albums. Tomek keeps active in his studio while also performing live with his band.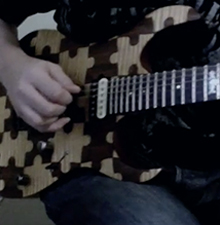 Mikko Kosonen
Location: Finland
Mikko Kosonen is a guitarist and composer residing in Finland who possesses a great deal of technical abilities on the guitar. He is a graduate of Musicians Institute and continues to write, record, teach and perform live.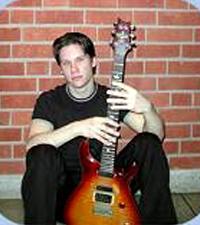 Jon Bjork
Location: Sweden
Jon Bjork is a guitarist, composer and music teacher residing in Stockholm, Sweden. Early on, Jon learned a wealth of Jazz theory from his father. He has studied with Brett Garsed, T.J. Helmerich, Scott Henderson and also graduated from Guitar Institute of Technology. JOn keeps busy writing, recording, teaching and working with his band "Mankind".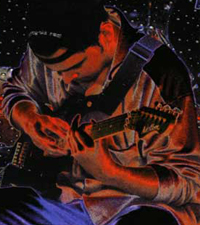 Chris DePhillips
Location: USA
Chris De Phillips took private lessons for over 10 years. He has released a CD of acoustic guitar songs entitled "Bromide, Catharsis, and Personal Thoughts In The Rain". Chris stays active with his band while continuing to write and record ne music.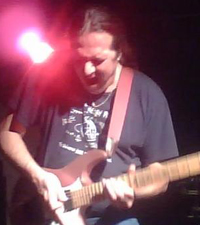 Brian Yurick
Location: USA
Brian Yurick is a guitarist and music teacher residing in Ohio, USA. He has a firm understanding of classical principles and how they can be applied to the guitar, including many advanced compositional devices. Brian keeps active by playing live with his band while also teaching and practicing.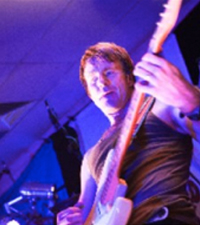 Scotty Max
Location: Australia
Scotty Max is a guitarist and music theory teacher residing in Australia. Scotty keeps active performing live with his band while also practicing in his studio along with teaching music theory ot class rooms of students.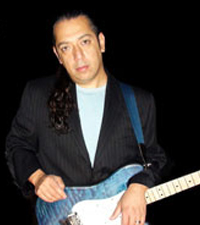 Ron Gonzalez
Location: USA
Ron Gonzalez is a composer, guitarist, keyboardist, singer, and recording engineer at Dr Knobs Audio Lab. He has written and recorded several progressive albums with his vocal band "Lydian Sea". Ron uses Briane Moore guitars and an assortment high-end amps.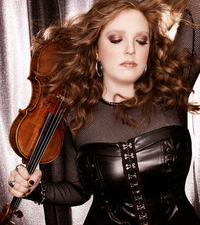 Rachel Barton Pine
Location: USA
World class violinist who has been the concertmaster for the Chicago Symphony Orchestra, has numerous classical and rock albums available, and continues to be active performing regularly with symphony orchestras worldwide and also her rock band. As a recommendation by Uli Jon Roth, Rachel studied improvisation with George to expand her already phenomenal classical skills. Rachel is also a big fan of hard rock and metal and performs live with her band when not performing with an syphonic orchestra around the globe.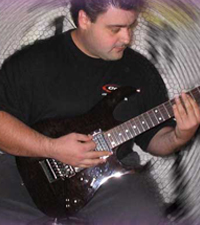 Carlo DiCristofano
Location: USA
Carlo Di Cristofano is a guitarist from Chicago, USA. He plays an Ibanez RG guitar and uses Mesa Boogie amplification. Carlo's list of influences include: Jason Becker, Yngwie Malmsteen, Tony MacAlpine, Judas Priest, Van Halen, Randy Rhoads and others.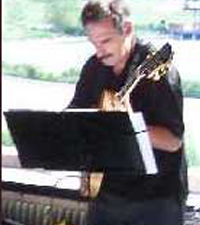 Dan Hoch
Location: USA
Dan Hoch is a guitarist from Illinois with strong Jazz and Blues influences. He has attended Dave Bloom School of Jazz, as well as studied privately, for many years. His guitar preferences include: Stratocasters, Les Pauls and Jazz hollow bodies. Dan keeps himself musically active by continuing to study and practice music, while also performing live with various Jazz Ensembles.
Dan is a big fan of "Band in a Box" software, which he uses for practicing jazz standards and laying down progressions to play over. His website - www.JazzManDan.com - contains a good amount of helpful media; including MIDI files, sheet music, chord charts, lyric sheets and Band in a Box files for popular Jazz standards.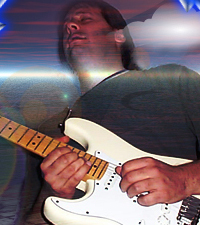 Gary Neuberger
Location: USA
Gary Neuberger studied privately for many years honing his craft. He cites The Beatles, Bach, and Buddy Guy as some his primary influences and has good understanding of classical and jazz theory and is diverse in his styles. He has written and recorded his debut album entitled "Out of the Blue". Gary keeps active by performing live with his band on a weekly basis.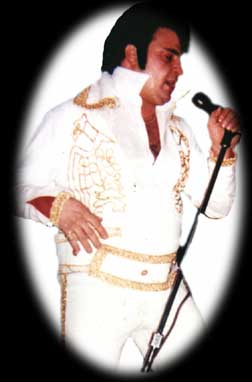 Joe Miulli
Location: USA
Joe Miulli is an Elvis impersonator and also an independent multi-talented artist. His father is an Italian opera singer and brother an accomplished pianist. Joe plays Drums, Keyboards, Guitar and sings. He is influenced by a wide range of styles from various eras - Beatles, Kansas, Elvis, Styx, etc... Joe has an extensive background in live performance with bands such as 24 Karat, Perfect Fit, Joe Elvis and others, but is currently commited to completing his debut album consisting of both instrumental and vocal oriented songs.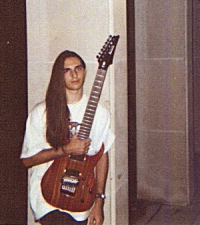 Tony Venturos
Location: USA
Tony Venturos plays in a progressive rock band called Avant Guarde and performs around the Washington D.C. area. He has been using the George Bellas Instructional Series for some time now and continues to grow and progress his skills as a musician.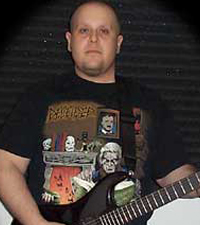 Steve Castaldi
Location: USA
Steve Castaldi is a determined and well disciplined player, he is focused on sharpening his skills not just as a player, but as a knowledgable musician. Steve originally began his musical endevours playing bass in various bands.
I'm very interested in learning all styles of music and becoming a more rounded musician. Currently I'm learning theory which I'm finding to be very challenging, and I look forward to advancing in all areas of my playing. It should prove to be a long but rewarding adventure, thank you George for taking the time to help me in my renewed interest in playing guitar. In the time I have taken lessons with you, you have proved to be an excellent teacher."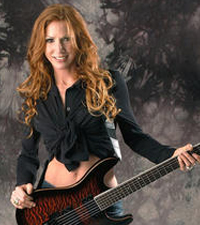 Katrina Johnson
Location: USA
Katrina Johnson is a guitarist possesing a considerable amount technical command on the guitar. She has written, recorded and released her solo album through Michael Batio's label Mace Music.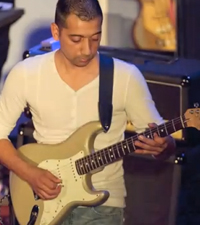 Juan Manuel Carmona
Location: Spain
Juan Manuel Carmona is a guitarist, composer, recording artist and music teacher that operates Acedamia De Guitarra in southern Spain. Aside from teaching a roster of students and running the acedamia, he has written, recorded and released several instrumental albums as a solo artist.
Dedicated to the Devoted
George has been fortunate to have taught thousands of talented musicians around the globe via private instruction, master classes, clinics, Skype lessons, and CD ROM lessons. If you are a previous or currently active student of Georges and don't see yourself on this page and would like to be promoted, please send in a request via email. This page is here to promote all the talented individuals that work hard at what they are passisonate about and is in no way a means to promote lessons.