Introduction
With decades of playing, composing, recording and teaching experience, George Bellas brings to you personalized guitar and composing lessons in the comfort of your home. These are live video lessons with acclaimed composer and guitarist George Bellas as your instructor. Upon starting lessons George will devise a systematic plan to help you achieve the goals you would like to accomplish. Included will be an evaluation of your knowledge and current abilities followed by suggestions to hone in on areas that will help you reach your goals. These are often areas that a student may not realize the importance of, but are paramount in helping increase skill level efficiently within the shortest amount of time.
Mission Statement
If you are serious and passionate about your guitar playing, and are willing to practice to become the best that you can be, these lessons will help you do just that in a short amount of time.  Using proven strategies, I will devise and implement a plan that will increase your skill beyond what you might not have even thought possible. I will teach you with the same proven methods that have helped me achieve my goals as a guitarist, composer and international recording artist.
Lesson Subjects
Live Online Video Lessons offers a range of subjects to study, including composition, guitar, orchestration, and recording classes. This program contains one of the most comprehensive set of lessons available today. Each lesson is designed to efficiently work towards accomplishing the goals of the student. Live Online Video Lessons are available for computers, tablets, and cell phones.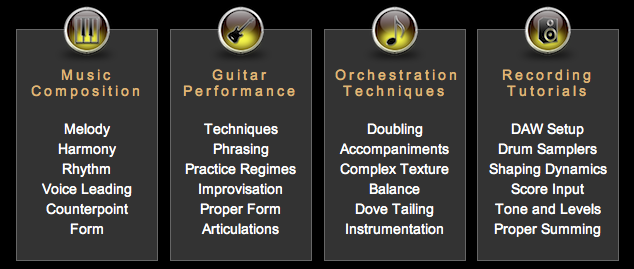 Benefits
With these lessons you will gain:
A complete understanding of music
Mastery of composition and performance techniques
Confidence in improvising, composing, and performing live
Invaluable insight into the music industry
A unique style of your own
Advantages to these lessons:
Learn from a world renowned guitarist and composer with over 20 albums to his credit
Personalized strategy to reach your goals
Interactive Live Feedback
An instructor that was discovered and signed to the most elite guitar label in the world
Learn at your own pace in your own home
Structured for maximum creative enrichment and rapid growth
Getting Started
These lessons are of the highest quality available today. George has taught thousands of students worldwide with private, group, and electronic media lessons, and is heralded as an esteemed instructor that possesses a vast amount of knowledge, experience and an approach that yields results. Everyday is an important step towards reaching your goals as a proficient guitarist and composer.
Are you ready to excel beyond your current limits?

If you're dedicated, disciplined, and eager to learn, let's begin...