Musicians
George Bellas - Guitars
Peter Fredlander - Drums
George Bellas - Bass
George Bellas - Keyboards
San Francisco Childrens Choir
Sofia Choir of Bulgaria
Credits
Written by George Bellas
Produced by George Bellas
Artwork by George Bellas
Bellas Tune Factory, BMI.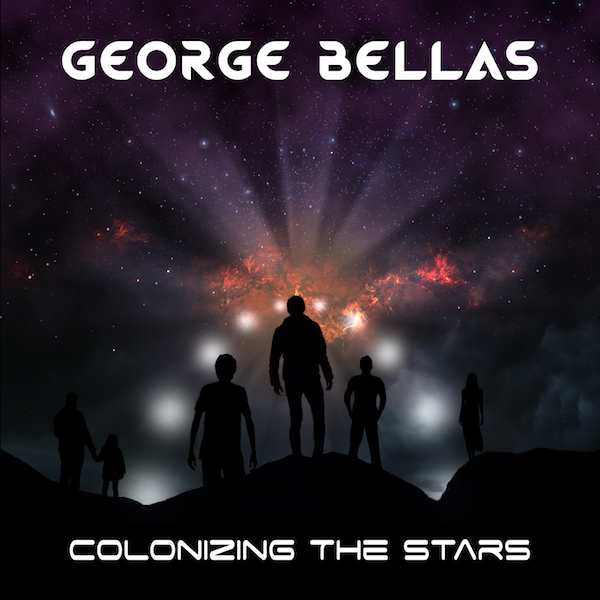 Track Listing
Imaginary Construct
Vision In A Dream
Sensory Overload
Robot Nine
Pray For Me
Merging With Machines
Living In A Simulation
Child Of The Stars
Existence
Running Time 52:00
Official DR Value 14
Colonizing The Stars
Released: February 22, 2018
Profoundly Unique, Highly Eccentric, and Imaginatively Futuristic are just some words to describe "Colonizing The Stars" the killer new album from world acclaimed composer and guitar virtuoso George Bellas out on February 22, 2018.
The album "Colonizing The Stars" by George Bellas contains nine epic compositions in a futuristic style with a palette of lyrically-flowing melodies, otherworldly harmonizations, and inventive rhythms all sounding through a barrage of guitar, bass, drums, choirs, and orchestral instrumentation.
Inspired by modern and futuristic scenarios of humankind's existence alongside artificial intelligence and the need to colonize the stars in order to prevent the extinction of the human race.
Envisioned in a time where the human species is living and breeding on new worlds throughout the universe, where entirely new languages and human form and cerebral abilities have evolved. Traveling to distant stars has been accomplished using a technology that encapsulates and transports human DNA along with eons of collective information to the outer reaches of the cosmos within light waves.
Profoundly Unique • Highly Eccentric • Imaginatively Futuristic
There is a lot to listen to on this album. The music is visionary and very deep with dense polyphonic textures weaving in and out over a myriad of outlandish meters and rhythms. The melodic content is very lyrical and flowing in which all instruments at some point execute.
There is only a single guitar used throughout the entire album, meaning absolutely no double tracked guitars were recorded. Using a single guitar was an effort to leave room on the soundstage for the choirs and other instruments and also to situate a dedicated location in the stereo and frequency spectrum. A full range of choirs were used, including a boys choir, girls choir, sopranos, altos, tenors, and basses. The style of writing is exceptionally unique and in a class of its own.
The organization of the album is in a symphony sonata cycle with three cycles containing three movements each. Each three movement cycle is in the format of Movement 1 - Fast, Movement 2 -Slow, Movement 3 - Fastest. Each cycle utilizes modified forms of Sonata Allegro, Minuet and Trio, and Rondo.
The album was mastered with the entire dynamic range left intact. No limiting was used during mastering. Turn it up!
Official Dynamic Range Value: DR14
Published by Bellas Tune Factory, BMI

Copyright &copy 2018 George Bellas. All Rights Reserved.