Creating "Planetary Alignment"
CONCEPT
The concept and inspiration behind "Planetary Alignment" was the science of astrophysics. Each song was based on a particular subject ranging from the smallest matter known to man, to the largest and most distant objects in the universe. The goal was to compose ultra-modern music using scales, chords and rhythms not heard too often in music. The main interval the songs are all based on is the Tritone, with the root tone as middle C. It is quite a mystery where inspiration comes from when one is creating music, and it seems to only all come together when one is well practiced, emotions are stirring and the planets are aligned.
WRITING AND RECORDING
This album was initiated using only rhythmic motives, and then later on scale choices were determined while composing the melodic and harmonic content. Most of the musical elements appearing on this album have never been used on previous George Bellas albums and offer a very fresh, ultra-modern sound. Most all of the compositions revolve around a Middle C root while employing various tritone based elements. The production on the album was kept dry and natural sounding, with effects used quite sparingly.
COMPOSITION ELEMENTS
CHORDS - Bitonal, Tritonal, Quartal, Quintal, Secondal, Pyramid Chord, Scriabin's Mystic Chord, Vienesse Trichords, Mother Chord, Grandmother Chord, Split Note Chords, Chord of the Minor23rd and more.

RHYTHM - Odd Meters, Polyrhythms, Polymeters, Pyramid Rhythms, Fibonacci Number Series Meters, Contracting and Expanding Meters and more.

SCALES - Numerous (no name) scales from Nicolas Slominski's Thesaurus, Scale of A. Therepin, Verdi's Enigmatic, Wholetone, HalfWhole, Pentatonics, Melodic Minor Modes, Harmonic Major and many more.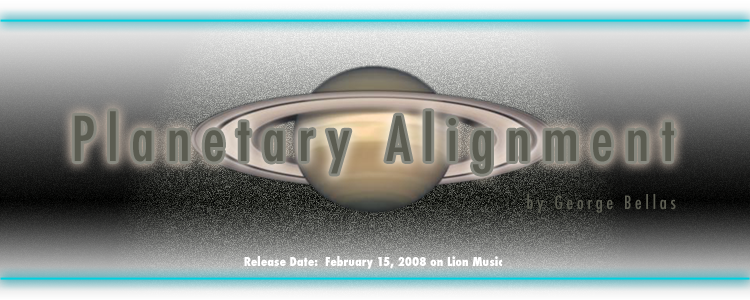 Song Descriptions...